Overseas Christian Fellowship (OCF)
We are ex-OCFers spanning across  the batches of the past 60 years. Having recognised that God has changed the lives of many who have been part of the OCF family, we share a common vision to preserve the memories of OCFers through the past 60 years.
We believe that the creation of an archive and the collection of oral history will encourage OCFers past, present and future. In particular, we hope that the current batches of OCFers in Australia will be affirmed in their commitment to the Great Commission in their respective campuses across Australia. 
We are heartened that our initiative is a work  placed under the auspices of the current OCF ExCo, that has agreed to the commission of this archival and oral history project.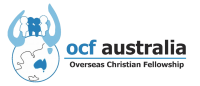 Ex-OCFers unite to piece together the OCF Heritage
Joshua Sim
Lead Archivist
Bob Looi
Archivist – Digital
Galven Lee
Archivist – Oral Histories

May-Kuan Lim
Lead Researcher


Seet-Ling Aimee
Barnabas Encourager/Advisor

Eugene Rodrigo
Treasurer and Asst. Archivist – Oral Histories
Esther Siong
Administrator
Christina Chew
Communications Manager

Jerad Tan
Relationship Coordinator/Connector


Jedidiah Watt
Asst. Researcher


Yan Ting Peh
Communications Administrator