How I grew in the Christian faith
My parents were devoted Christians. Perhaps I should start with their story which is more interesting & full of challenges & trials! My mother was born in British North Borneo, now known as Sabah in West Malaysia to a Christian couple who had emigrated there from China. When she was five the family moved to Peninsula Malaya. They lived on a small rubber estate in Tapah. At ten, though she was the oldest of nine children, her parents were broad-minded enough not to keep her at home to help the mother, but sent her to a Christian boarding school which was really an orphanage in Ipoh. It was begun by foreign missionaries for the many orphans & abandoned children they came across. She learnt fast & began to care for and tutor the younger children. She even accompanied the missionaries & interpreted for them when they went visiting to share the gospel. All this was preparation for the future of Miss Voon!
My dad was born In Malacca to a very strict Straits-born (Baba-Nonya) family of idol- worshippers. He did well in school. His headmistress got him a scholarship to go to the University in Hong Kong. It was here that he became a Christian. He knew his parents wouldn't be at all pleased. He was prepared for persecution. They were preparing for his marriage to someone of their choice, but he said that as a Christian he would only marry a Christian.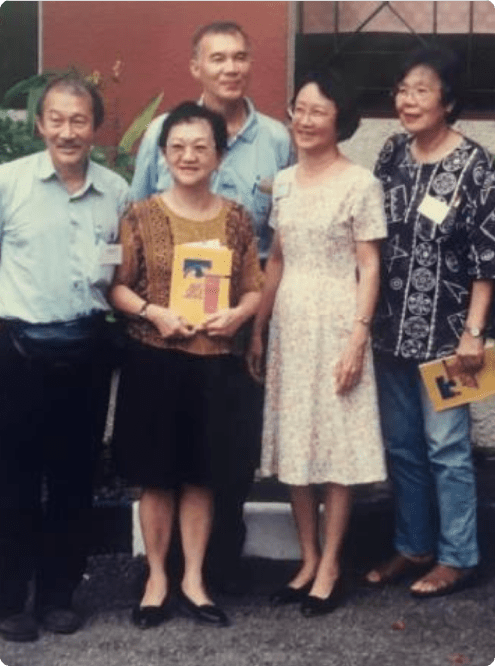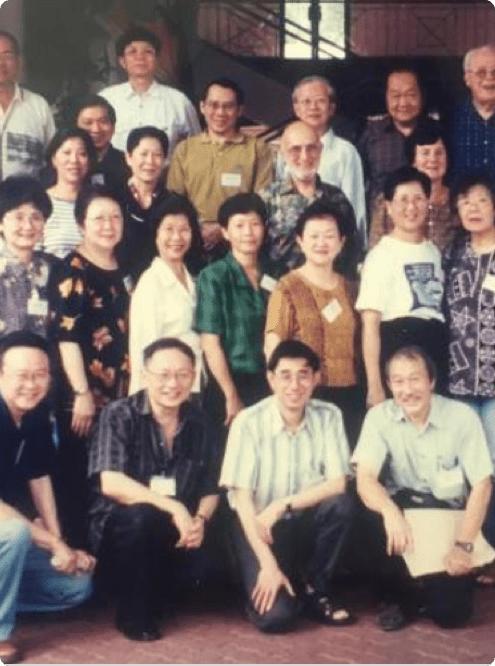 Marriage
Marriage brought different challenges and ministries. Tan Eng Heng & I had met in OCF Melbourne! We got married in Dec,1962, and set up home in Petaling Jaya though not for long. As a civil engineer with water works, he was transferred to different places – to the Cameron Highlands Hydroelectric Scheme but accommodated in Bidor over an hour's drive away, back to Kuala Lumpur, then to Malacca, and again back to Kuala Lumpur till he retired.
Living in Bidor was like a wilderness experience, being so isolated. It was a mile in from the main road, in a tin- mine with a noisy squeaky dredge! And beside us was the railway track from Penang to Singapore! It was an experience! Why did the employers find accommodation so far away from the work-site, when they had specially built houses for the engineers near by? It was meant for the whites!!! Everyday Eng Heng had to drive for over an hour to his office at the 14th mile along Tapah Rd to Cameron Highlands. His work covered a large area, up to the 32nd mile. He had to trudge into the jungle. They were building water dams.
Our first child was born in 1963 in Batu Gajah during our sojourn there. Our social life consisted of visiting my aunt's home in Tapah on Saturdays, and to church service in the home of four OMF lady missionaries in Bidor on Sundays. Now & again a few friends would drop by on the way to the north or to the south. For me it was a great time getting to know the Lord better, preparing me for when we returned to Kuala Lumpur.
Baby Grace was a great challenge to a new mother. She had colic & cried a lot! But I loved her all the same! After about two years or more, we were sent back to Kuala Lumpur. It was a different life here, you can imagine! Our second child, Christopher was born in 1968.
We got together with some friends in FES, including a couple from Sydney OCF & VCFers from Singapore, & others. We were involved in Varsity Christian Fellowship at the university & were advisors to the technical college. Then Eng Heng got transferred to Malacca for about two and a half years. We lived in my mother's home and got involved in the church founded by my parents. My father had passed away with cancer by then. The two plus years spent there were very memorable, challenging and enriching. Our main involvement was with the young people.
Malacca is an idolatrous town. Many, if not most of the young people, came from such homes. One was even chased out of the home when he became a Christian. He stayed with my parents for a while, then moved to another home. Many of these young people became Christians and are now leaders in various churches and some have planted churches, even in other countries!!
Back in Kuala Lumpur, the Lord had other things for me to do. When the children went to Sunday School, I taught in Sunday School. When they were in secondary school and attended the young peoples' meetings, I taught a class of teens. At the same time, I was also involved in the women's ministry in church. A friend and I started a library with some of our own books, specially for the women.
In 1980, a group of us local women from different churches & missionaries from USA, Australia & New Zealand, got together & organized interdenominational annual conventions for women in Petaling Jaya / Kuala Lumpur & a few other towns in the country. We were supported in prayer and ideas by Australia's CWC (Christian Women Communicating), and USA's Stonecroft Ministries. We introduced Stonecroft's Bible studies called Friendship Bible Coffee (FBC for short), Evangelistic Teas, and weekend Retreats.
Since then I have been fully involved in CWC and FBC. It was an exciting ministry, because not only were women brought to the saving knowledge of Jesus Christ, but also some husbands!!! And so sometimes whole families were added to the church!
The last of CWC ministries ended in 2003. Why? The committees had worked so hard through the year and were disappointed when attendance began dropping. The biggest attendance was 800 women! We found out that many of the churches had begun organizing events & Bible studies for their own women. We were pleased and decided that it was time to close down! But FBC continues to this day in 2020, though the number of studies have decreased.
I had collected many testimonies of women who testified of how the CWC & specially the FBC have transformed their lives! I hope to encourage the women who were in the committees & the Bible Study Guides to read these testimonies, and feel rewarded by their hard & faithful work for the Lord, and that their labour has not been in vain (1 Cor 15:58)!!
I still use the FBC in three weekly Bible Studies in Kajang where I now live, but online, since the pandemic caused by Covid-19.